Thor, son of Odin, the God of Thunder, is one of the main characters in the universe. The Marvel character has won the hearts of fans on the pages of comic books and the big screen.
He looks very menacing in his helmet and with his magic hammer. Please print out these free Thor Coloring Pages and color them with your favorite colors.
Printable Thor Coloring Pages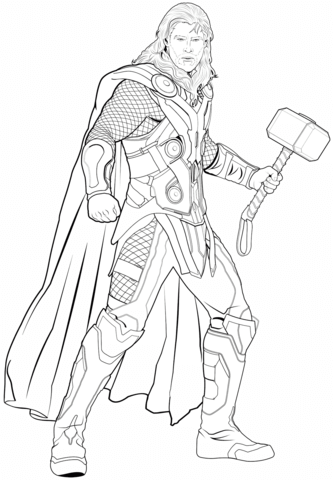 Thor is one of the Avengers; he has also, from time to time, had to come face to face with some of his teammates, either to settle differences or for more realistic problems.
Thor is a fictional character, a superhero of Marvel Comics. He first appeared in Journey into Mystery in August 1962, debuting in the Silver Age of Comic Books.
He has also appeared in various Marvel products, movies, animated television series, video games, toys, clothing, and trading cards.
Odin, Thor's father, decides to place Thor, with no memories of godhood, into the body and memories of an existing, partially disabled human medical student, Donald Blake.
Already a doctor and on vacation in Norway, Donald witnesses the arrival of an alien exploration. He flees from the aliens into a cave and discovers Thor's hammer, Mjolnir (which looks like a staff), and by striking it against a rock, he transforms into the god of thunder.
Once he defeats the aliens, Thor shares a double life with his alter ego. He treats the sick in private practice with the nurse and current partner, Jane Foster, and defends humanity from evil.
In love with Jane Foster, Thor disobeys his father and refuses to enter Asgard. This causes him to be punished on several occasions.
Download Thor Coloring Pages Pdf